House Lifting Services in Tamil Nadu
House Lifting Services In Tamilnadu include House Lifting/Raising, House Shifting/Relocation, Building lifting, Raising levels of any kind of building structure on the basis of your requirement. We provide Building Lifting by Jack in Tamil Nadu. We have delivered 1100+ Successful Projects with Assured On-Time delivery. Our experts are well-experienced in this field and us a reliable firm providing service with a guarantee of 100% satisfaction and definitely will meet all your requirements whether durability or budget.
We provide Best House Lifting Services In Tamil Nadu, We can say it confidently because we delivered many successful projects in the many cities of Tamil Nadu.  Take a Look of our Projects.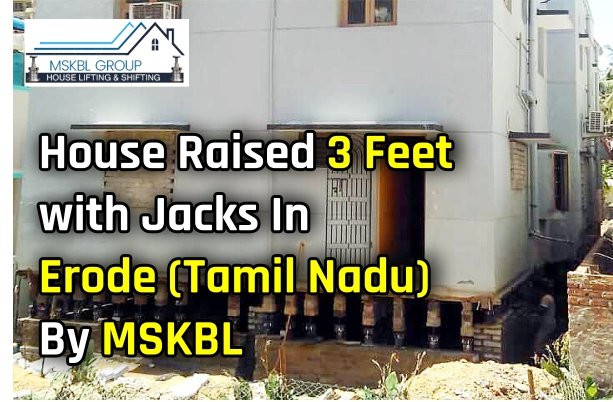 Flood, Vastu or any Issue, Don't worry. We provide our house lifting services to help for any problem.
People living in Tamil Nadu, suffering due to floods and landslides that occurred due to incessant monsoon rains. Many people protected their houses from flood by getting house raising services in Tamil Nadu.
Specifically, residents from areas like Chennai, Kanchipuram, Cuddalore, Tiruvallur, Villupuram, Chengalpattu, Coimbatore, Erode, Thanjavur, Nagapattinam, Pudukkottai, Trichy, and low-lying areas are enquiring about house lifting services in Tamil Nadu and securing their house by raising the level of their houses from natural disasters like floods.
We can also help if you want to correct the directional alignment of your house according to Vastu. Sometimes people face issue of water-clogged areas or the neighbour's house was on higher ground. But mostly people are want their house-raising due to flood.
MSKBL as a Top House Lifting Company in India, we delivered many successful projects across India. 
House Lifting Services in Tamilnadu
We Provide House Lifting Services in Tamilnadu including House Lifting/Raising, House Shifting/Relocating, House Leveling, House Rotating
Building Lifting Services in Tamilnadu
Best Building Lifting Services in Tamilnadu including Building Lifting/Raising, Building Shifting/Relocating, Building Leveling, Building Rotating
Temple Lifting Services in Tamilnadu
Most Trusted Temple Lifting Services in Tamilnadu including Temple Lifting/Raising, Temple Shifting/Relocating, Temple Releveling, Temple Rotating
Building Lifting Services & House Lifting Services in India